Hungary's First Health-centred Adult Orthodontics
Orthodontic treatment without jaw surgery or tooth extraction
Your time has come. You can have a nice smile without invasive treatment. On top of that, you get more, since the treatment, besides creating a beautiful smile, treats the causes as well which improves your sleep, your performance and your well-being.
A healthy smile gives you the chance to finally bring out the best in you.
Health-centred adult orthodontics does not only affect the teeth positively
A method unique on a global level in an innovative and ultramodern surgery
Traditional orthodontics examines and treats teeth and the jawbone, often by pulling teeth or with surgical interventions.
There already exist methods of treatment which apply logopedia alongside orthodontics, sometimes even supplemented with bodily treatment. However, only in very few places worldwide is there a combined procedure which aims at providing your child with well-balanced sleep and general health alongside a beautiful smile.
The definition of health-centred functional orthodontics was introduced by Dr Gábor Hermann a few years ago.
Our surgery has developed a completely unique treatment procedure. We have developed a treatment method which is outstandingly effective in creating a beautiful smile and face and fits in well with the other modules of health-centred treatment.
The treatment is expressly comfortable and apart from this offers quite a lot of extra services. Beside the treatment of teeth and the jawbone without surgical intervention or tooth extraction, we also incorporate logopedic, breathing therapeutic, neurological groundwork and posture correctional treatments into our programme. In different words, we provide several services as part of our programme for which you would have to go somewhere else and pay a separate fee.
Every treatment is in-house, apart from this we are in touch with an ear-nose-throat specialist, a sleep specialist and a nutritional counsellor as well. The complex programme affects sleep, work and sports performance in a positive manner apart from giving you a great smile. Along with the modern surroundings, many people praise the atmosphere of the surgery and the team's preparedness and kindness.
However, there is need for orthodontic treatment in more cases than we would think
Many people think that teeth are needed only when we consume food or smile. The sets of teeth have two further important functions. Firstly, the internal space of the dental arches is the place of the tongue. If the dental arches are narrow, the tongue does not have enough space. This negatively affects swallowing and in the end often breathing and sleep. So the shaping of the dental arches is not only important because of a nice big smile but also because of health. The other connection is perhaps even more important. The contact of the sets of teeth determines the position of the jaw. It is typical for people in adulthood to have a lot of fillings, prostheses, or missing teeth. All of these can contribute to the jaw losing its former, ideal support. Eventually this can lead to jaw joint problems, sleeping disorders or one's face profile can develop in an unflattering manner.
As we have written above, the role of the teeth is partly to support the position of the jaw. Therefore it is very advantageous to have a treatment which restores the body's balance, stops the popping of the jaw joint, improves sleep and accordingly determines the ideal jawbone position and sets up the ideal bite. In this case the permanent prostheses can be made in mush more advantageous circumstances. In such treatments we always cooperate with your dentist or, if you do not have one, we recommend you one of Budapest's best surgeries.
Since the crooked position of teeth is part of a complex problem, the assessment and treatment has to be well-supported. It is not only because of genetics that teeth are in the position they are in.  The tongue, the lips, the cheek muscles, the chewing muscles, breathing, posture and the neurological balance responsible for muscle tone can all play a role in how teeth are positioned. Exactly for this reason during the assessment, alongside the traditional orthodontic diagnosis we examine the mentioned areas. After the unique assessment we do a very detailed analysis and based on it we create the customized complex treatment package.
That's right, all of this can be connected to teeth and orthodontics
That's right, all of this can be connected to teeth and orthodontics
How long does an adult health-centred orthodontic treatment take?
As far as the goal is to set up a "new normal", there is a way to go. There are cases where a pre-treatment takes care of the acute symptoms like sleeping disorders, jaw joint problems or a more severe jawbone asymmetry. This can be 3-6 months.
During this time there are already training elements. In the "more classic" orthodontics the braces are sometimes put on at the same time, sometimes only upper treatment starts first. Meaning that there are individual differences. Health-centred treatments are usually 18-26 months long, sometimes longer, especially when the treatment has to correct missing teeth as well.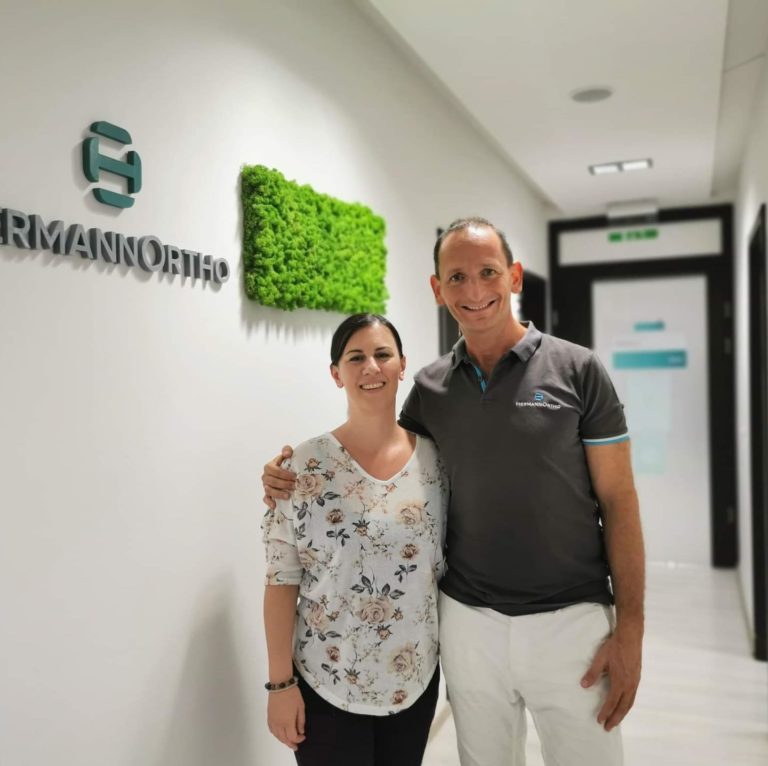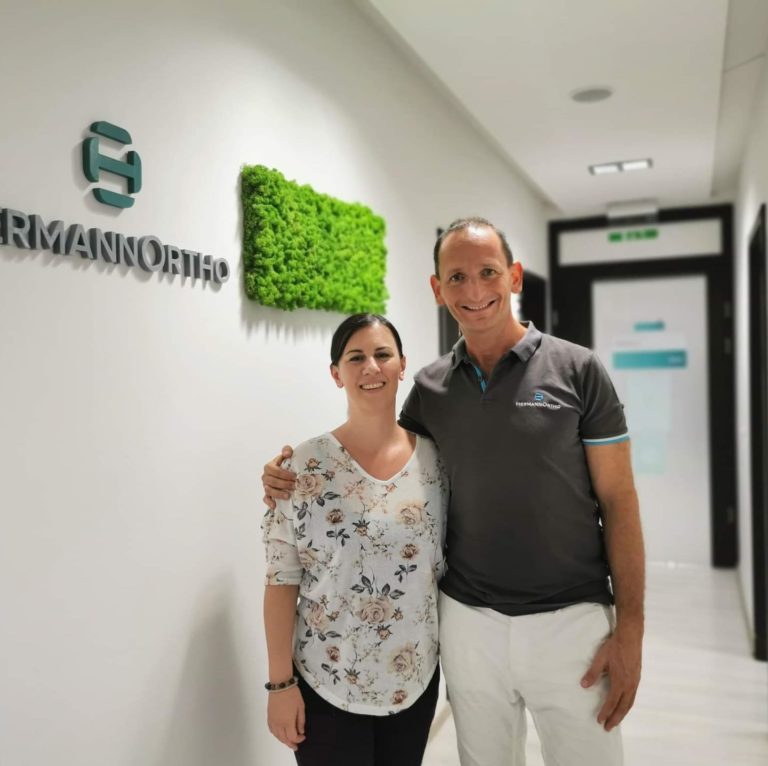 Why are invisible devices not suitable for health-centred treatment?
Health-centred orthodontics is special because it allows us to transform teeth in the most biological way possible. Two things follow from this. One is that we need a device which has minimal power transmission and creates the minimum of tension in the mouth. As of now, this requirement is only met by the so-called passive self-ligating technology (orthodontics working with mild power).
The other very important factor is that we correct the face and jawbone asymmetry and the receding jaw position with a special, individual filling material supplements that are applied to the tongue-side surface of the teeth. This means neither the tongue-side orthodontics, nor the removable rail invisible devices are suitable for this purpose.
How complicated is this treatment? How many places do I have to go to?
When creating our protocol, our main consideration was for the treatment to be easy to follow alongside maintaining efficiency. Orthodontics creates the position of teeth and jawbone that is advantageous for setting the function. The setting of the function is done by our trainer-team. 
At the beginning of the treatment it might be needed to see an ear-nose-throat specialist and/or a sleep specialist, but this is basically the only reason you might have to consult a specialist outside the surgery. Neurological groundwork, breathing training, posture correction, manual therapy, logopedia are all part of the service and are provided by our own team. Orthodontic treatment and training run simultaneously, you can make the appointments in one place.
How much do the treatments cost?
Pricing is a very important factor when making a decision. That is why it was our goal to create a clear offer for our patients.
The pricing of our treatments consist of three components.
420 000 Forints' worth of extra services
250 000 Ft/ set of teeth at the start
WHAT EXACTLY DOES THE PACKAGE CONTAIN?
| | | |
| --- | --- | --- |
|   | Health-centred orthodontics | Traditional orthodontics |
| Setting of teeth and jawbones | | |
| Closed-lip position | |   |
| Correct swallowing pattern | |   |
| Breathing correction | |   |
| Improving sleep quality | |   |
| Body posture correction | |   |
| Workplace performance enhancement | |   |
| Sports performance enhancement | |   |
| | | |
| --- | --- | --- |
|   | Health-centred orthodontics | Traditional orthodontics |
| Setting of teeth and jawbones | | |
| Closed-lip position | |   |
| Correct swallowing pattern | |   |
| Breathing correction | |   |
| Improving sleep quality | |   |
| Body posture correction | |   |
| Workplace performance enhancement | |   |
| Sports performance enhancement | |   |
If it is important to you for your smile to get beautiful without tooth extraction or jawbone surgery, it is important that orthodontics also treat the causes and that you look for the best place and if your time is limited (you want to get everything done in one place, if possible), then the first step to this is a consultation.
What do others say about us?
During the sleep examination the polygraph diagnosed me with sever sleep apnea.
Frequent apnea (over 15 in an hour!!!), snoring and dryness of the mouth accompanied my sleep because of which I often felt the lack of sleep, tiredness the next day. Beside the apnea being a serious health hazard, driving a vehicle is also not allowed in this condition because there is a high risk of accidents.
The doctor doing the examination recommended the use of a CPAP device which I rented but unfortunately I could not get used to it and sleep properly with it during the course of quite a few nights. Then, luckily, I got the advice to go and visit HermannOrtho (thanks, Dávid!).
After a thorough examination in a few days they made me an orthodontic rail for nightly use which regulated the position of the jaw during sleep (the jaw cannot slip back in its relaxed state so the airways are much less likely to get obstructed) so the air can flow freely. The "rail" itself is a transparent plastic device, similar to braces, it is easy and quick to get used to. After about one week of use a follow-up examination was done with a sleep monitor on two consecutive nights.
I have received the specialist's opinion which speaks for itself: "the polygraph sleep examination of two consecutive nights could not confirm apnea, there was no hypoxia…"
I am very grateful to HemannOrtho for their help.
HermannOrtho's sleep dentistry is currently one of a kind in the country. If you have tried the health insurance covered Therasnore but could not get used to it or it does not work and you do not use it, visit HermannOrtho and try the 3D printed protrusion rails. As an IT student doing his Master's, it is fantastic to see that the new technologies that I study about are already in use at HermannOrtho. Gábor always does his best to further improve his knowledge in fields beyond but connected to orthodontics. I can guarantee that except for a few exceptions not too many orthodontic specialists would know what the abbreviation "CG" stands for.
We brought both our children to the HermannOrtho surgery. Gábor worked miracles on Bence's teeth, the end result was much better than I had expected! Zoé's treatment is not finished yet, but the change is already visible and she is very happy about that.
I myself like coming here because the children have never been afraid, the treatment was much more comfortable and pain free than I had been told by others who got treatment elsewhere. Children like Gábor very much, he speaks their language. Everybody was very kind to them, they would always explain to them what was going to happen and why during the treatment.
It was also important for us that the surgery is well-equipped, they work with the newest technology. Gábor constantly develops both the surgery and himself! This was a very important feature for me when making the choice. This is why we come here, although we live 85 kms from Budapest. It is the icing on the cake that he proved to be a very kind person. Everybody at the surgery is very nice and this was also very important to me, since we are talking about my children.
Dear Dr Gábor Hermann and Team, Girls, Anita, Era and Everybody who has worked for my health,
it is my greatest luck to have found you. A conscientious orthodontist who didn't take me on as a pateint recommended Doctor Hermann, referring to him as "the best orthodontist of the country". I encouraged myself by thinking that if a professional evaluates someone like this, then he must be good.
Filled with new hopes, I was excited to go to the consultation. Well, people, it is true! Professionalism, knowledge, a lot of outstanding reference, information on the treatment, communication on the procedure, indication of attention (yes, your health is important for us, too), soothing nice words and actions. It is a bit funny to say, but I do say that I like coming to HERMANNORTHO. My fear of failure was vanished, and the creation, my braces were a success. Congratulations and big thanks to all of you. If I have to choose one word to describe all of this it would be: EXCELLENCE! I would like to thank you for everything that I've got.
With love and respect!
This is why we have received so many five-star ratings:
Complex service
Do not think teeth, you have to think in terms of complex health. We help you with that.
Everything in one place
You do not have to go to several different places. From the check-up to the treatment, we do everything in one place.
Familiar atmosphere
When you enter here, you forget that this is a dentist's surgery.
A professional and friendly team
We think it is fundamental for a team to be professional at what they do. Beside this, however, it is very important how the patient visiting us feels.
Experience
During our 25-year run we have encountered several thousand cases, therefore you can rest assured that no matter how complex a problem you are struggling with, we have the solution.
Dr. Gábor Hermann
The concept of health-centred orthodontics has been introduced by Dr. Gábor Hermann in several international forums in the past years. He has developed this special treatment method as part of this.
Holistic approach
Because we are either healthy or not. There is no compromise. This is the only worthwhile interpretation of health.
The most modern tools
HermannOrtho is Hungary's most modern orthodontic surgery. From our own lab and x-ray machine to a 3D printer, we have everything at our disposal.
"HermannOrtho is a place that is a pleasure to visit!"
Because let us face it, most dental surgeries are not like this. 
Our 4.9 average Google reviews also prove this with…
32 out of
33 ratings being 5 stars.
Get an appointment for consultation!
Come and consult us, your child will be grateful later on that you gave them the best thing possible!
Every change starts with a small step, or a click in this case. Once you click the button on top and the page will send you to our form.
Every change starts with a small step, or a click in this case. Once you click the button on top and the page will send you to our form.
Give your name and phone number on the form and we will call you back to settle on an appointment.
OR
Call us directly on the number under the form! (We are looking forward to meeting you!)
WE CALL YOU BACK AND LOOK FOR AN APPOINTMENT
If you have written to us, we will call you back within 24 hours and will find an appointment suitable for you.